The Polefessor is available for workshops around the world. If you would like to host The Polefessor's workshops at your studio or facility, contact us and include all details to your studio/facility, requested dates and for in depth description of terms and conditions.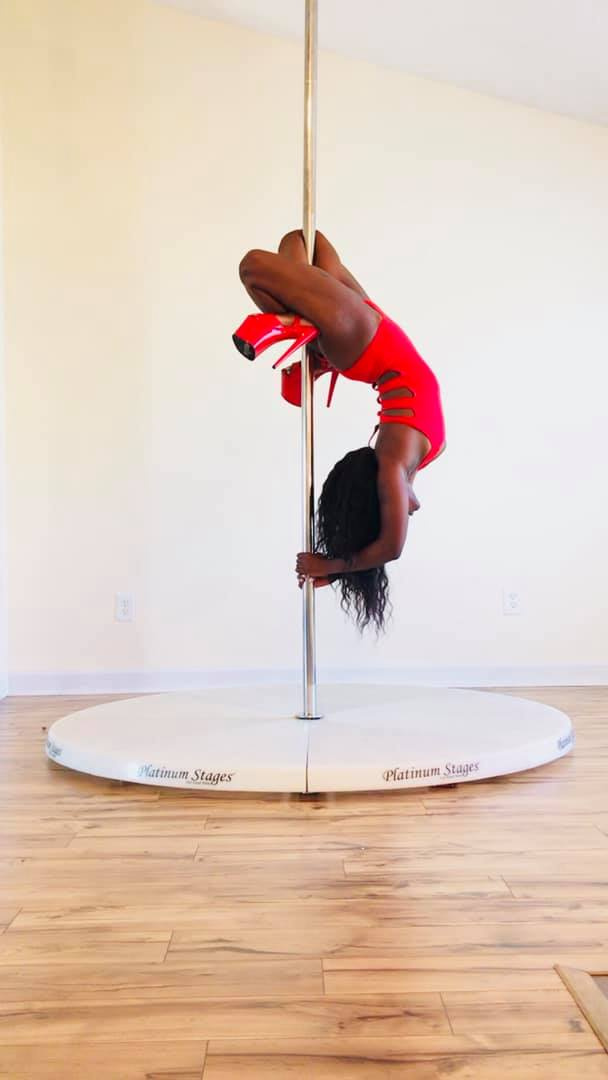 The Polefessor
Instructor
The Polefessor is definitely a one of a kind instructor and performer. She is a self-taught pole dancer and aerialist who started in 2010 learning from YouTube videos. Since then, she has garnered respect from fellow artists, and gained self-knowledge about herself as a person, instructor and performer.
The Polefessor started her pole and aerial teaching career in 2015 in Gulfport, MS after opening her own studio, Aerial Fit Lab, the first and only dance studio on the Mississippi Gulf Coast to offer Pole Dance and Aerial Arts. She is the Owner and Founder of Poledorant, the industries first and only Pole Friendly Deodorant and Grip Aid. She continues her journey traveling , training and performing.
Why The Polefessor?
What makes The Polefessor unique is her support system. It is her job to make sure that everyone leaves feeling stronger, happier, and successful. She continuously cheers and supports her clients! Her style is very sensual, graceful, and dynamic. Whether one chooses to be the sexy or athletic side of pole, she can help project exactly who and what they want to be. Proper Technique is a heavy focus for The Polefessor and her workshops. She believes it is important that proper form is essential to move through the movements without struggle. The Polefessor is perusing her Bachelor's degree in kinesiology, which has greatly helped her recognize the bodies natural alignment and movements. She is also a 8 year military Veteran, Mother and pilar in her community helping shape and mold women into being more confident and strong one class at a time.
Pole Dance - Intro/Beginner

Pole Dance is a Fun and Flirty Fitness Alternative. This Workshop Covers Beginner Pole Dance Fundamentals, Climbs, Spins, Tricks, Transitions. Class will begin with a short dance warm-up. You'll then learn a few spins and tricks both on and off the pole. Class will end with sequencing a number of the moves you learned together into a fun combo before stretching. Wear form fitted clothing that exposes the lower legs such as shorts and a tank top or t-shirt.
1 Hour $30
Have you ever wanted to dance like a video vixen? Now you can! This workshop is a sassy, hip hop meets cardio session with dance combinations that will provide a full body workout like no other. You will also learn sexy floorwork and how to confidently dance and walk in a pair of heels! Let loose and unleash your inner Beyonce' and Rhianna! All while completing intense muscle toning movements disguised by clever choreography, loud music and FUN! Heels are optional but highly encouraged. Bring long socks, leg warmers, or knee pads. You will need something to cover and protect your knees. Dress as Sexy or Conservative as you would like. All levels welcome.

1 Hour $25
Pole Therapy - All Levels
Pole dance is a great form of therapy that can help boost your confidence and self esteem and it's also a fun and flirty fitness alternative. Pole Therapy Sessions begin with a Energy Reading and followed by a Warm Up and Pole Dance Lesson ending with a Cool Down Stretch and Guided Meditation. Improve your physical wellbeing and heighten your sense self awareness. Wear form fitted clothing that exposes the lower legs such as shorts and a tank top or t-shirt. No street clothes or jewelry. Do not apply any lotions or oils to your skin prior to class.

1 Hour $35
Learn Sensual Chair Moves that will tone your abs, butt and legs. This workshop will consist of a combination of exotic dancing and floorwork using the chair to create a dance that will make you feel sexy and powerful. You are welcome to bring your heels and a zipper/button up shirt to remove and spice this up! All levels welcome.
1 Hour $25
Twerk is best way to fit, legit and official booty results! High impact cardio and glute workout that teaches glute muscle control, bounce and shake! Often the most requested workshop, You will see your booty lift and shape as your legs become more defined. You burn more than 700 calories in one lesson, excluding the warm up and cool down. With correct posture and body placement, twerking engages your abs, glutes, lower back, thighs and calves. It loosens your hips and strengthens your arms (wall twerking). It is highly addictive and you will catch yourself moving one cheek at a time while standing in line at the grocery store. There are different levels to twerking and it can be combined with other fitness offerings with The Polefessor. Beginner twerking teaches the basics on the floor. Intermediate teaches twerking on the wall, handstands and chairs. Advanced twerking teaches twerking on the pole, doubles/partners and in heels! Each lesson comes with a routine. Bring knee pads if you have them. Wear form fitted "twerkable" bottoms.
1 Hour $25
Stretch & Flex - All Levels
Stretching is an important part of getting in shape and staying fit. Together we will be stretch our hamstrings, quads, and opening up our hips to one day perform the splits or over splits. We will be stretching our back and other major joins for overall body flexibility, making pole work easier and improve injury prevention. This workshop is also the perfect way to wine down from your busy work week. Wear form fitted clothing that covers the legs. Bring a yoga mat if you have one.

1 Hour $25
Lyra (Aerial Hoop) Intro/ Beginner
We begin with a warm up which focuses on building strength and endurance followed by mat training, then progress to learning the fundamentals, mounts, tricks and dismount sequences. We also dabble in the art of spinning which is what Lyra is famous for, ending with a cool down stretch. This workshop helps you gain ability to move through poses with grace and ease while gaining strength and control. Wear form fitted clothing that covers the back of the knees, midsection and armpits. No street clothes or jewelry.
1 Hour $40